Noelle Perez Put Me in Posture Heaven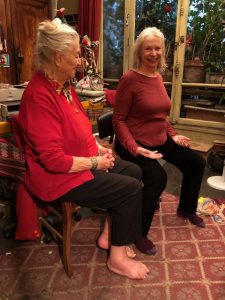 Early on Saturday morning two weeks ago, I walked up the stairs of the Duroc Metro station in Paris thinking: "You're 70 years old. Isn't it time you stopped doing things that scare you?"
I was on my way to a seminar with Noelle Perez. For someone who works in the world of natural posture, that's the equivalent of meeting BKS Iyengar for the first time and spending two days under his gaze.
Apart from being one of BKS Iyengar's first Western students (and the pink bikini lady in Light on Yoga), Noelle Perez is the source for the postural work I do.
She had the original insight, back in the late 1960s, that modern western posture has displaced the pelvis. From that pelvic misalignment, a host of ills follow. Noelle spent decades studying populations that maintain an upright, pain-free posture into old age. Her acute observations form the basis of her teaching.
Now 93, she has, like Iyengar, a reputation for being an exacting, and sometimes harsh teacher. She's given to shouting.
But I can report that getting over my fear was well worth it, and that there's no time limit on doing things that scare you.
In the two days of the seminar, Noelle adjusted each of us several times.
She does shout: "Why do you resist me?" "Why do you resist gravity?"
But she also smiles. She is genuinely happy when her hands bring a student into a long and lifted line. "How does it feel?" she asks, and she sometimes says, "You look beautiful."
I took a private class the day after the seminar to feel again what it is like to be in balance. I can only describe it as a powerful blend of strength and relaxation. My low back was both engaged and soft, my very top thoracic spine felt like it was doing a glorious backbend.
Noelle Perez passed away in August of 2019. Her work continues through her foundation in Paris, the Institute Superior d'Aplomb. Senior teacher Gerogia Leconte , who teaches in the Ardeche region in France, has an excellent website.
Would you like to learn more about Noelle's groundbreaking research into posture?