Noelle Perez Put Me in Posture Heaven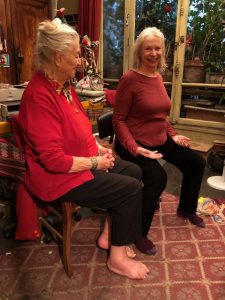 Early on Saturday morning two weeks ago, I walked up the stairs of the Duroc Metro station in Paris thinking: "You're 70 years old. Isn't it time you stopped doing things that scare you?"
I was on my way to a seminar with Noelle Perez. For someone who works in the world of natural posture, that's the equivalent of meeting BKS Iyengar for the first time and spending two days under his gaze.
Apart from being one of BKS Iyengar's first Western students (and the pink bikini lady in Light on Yoga), Noelle Perez is the source for the postural work I do.
She had the original insight, back in the late 1960s, that modern western posture has displaced the pelvis. From that pelvic misalignment, a host of ills follow. Noelle spent decades studying populations that maintain an upright, pain-free posture into old age. Her acute observations form the basis of her teaching.
Now 93, she has, like Iyengar, a reputation for being an exacting, and sometimes harsh teacher. She's given to shouting.
But I can report that getting over my fear was well worth it, and that there's no time limit on doing things that scare you.
In the two days of the seminar, Noelle adjusted each of us several times.
She does shout: "Why do you resist me?" "Why do you resist gravity?"
But she also smiles. She is genuinely happy when her hands bring a student into a long and lifted line. "How does it feel?" she asks, and she sometimes says, "You look beautiful."
I took a private class the day after the seminar to feel again what it is like to be in balance. I can only describe it as a powerful blend of strength and relaxation. My low back was both engaged and soft, my very top thoracic spine felt like it was doing a glorious backbend.
Now I'm back in Vancouver, and eager to share what I've learned.
If you've already taken a Spinefulness weekend workshop or series with me or with Jean Couch, please consider coming to the Monday night Spinefulness Practice Class, 5:30 to 7 pm, November 5 to December 10.
In practice class, we work on openings that make it easier to have your pelvis in place, and on ways of activating your inner corset of deep abdominal muscles.
We also review sitting, standing, walking, bending and even sleeping. Cost is $25 per class, or $125 (+GST = $131) for the six-week series.
(Practice class is restricted to those who have taken a Foundations course because Spinefulness is a fundamental revolution in our understanding of posture. Until you incorporate that understanding into your body, it's useless to try to work on it piecemeal.)
If you've taken a series or weekend Foundations class with me any time in the past two years and have had to miss a session, come for a makeup class on Saturday, November 17.
There will be two sessions, 10 am to noon, and 1:30 to 3:30 pm. There is no charge for these sessions, but I do need to know in advance if you are planning to come.
I am also teaching private and semi-private classes by appointment. Email me at  evej@shaw.ca for more information.