Tone your abs while making cookies
Okay, I'll admit the part about the cookies is frivolous. You can also tone your abs while making wholesome soups, or chopping vegetables for stir fries, or washing salad greens.
What you can't do is tone your abs while standing in modern posture, with your pelvis forward of the line of gravity, or, for example, resting your hips on the stove, or the kitchen counter.
On the other hand, if you stand in Original Alignment while you cook, your abdominal muscles will tone. In fact, without steady support from your abdominals, you can't stand in balance at all, no matter what you're doing. Everything you do in Original Alignment, from going for a walk to unloading the dishwasher, tones your abs.
And time spent at the kitchen counter presents a golden opportunity for practice.
Cooking gives you time to practice standing, while doing something that doesn't take all your attention. Unlike a standing desk, where your focus in on work, the kitchen counter is a place of routine. We have carrots to peel, onions to chop, garlic to mince. We can, and do, let our minds wander. That means we have a chance to nudge our awareness towards the feeling of our body in space. We can notice where we feel weight, and then adjust our alignment until our abs engage.
You may be wondering how this could possibly work.
Don't we need to "feel the burn?" Work the muscles to failure? Wake up virtuously sore the next morning?  How could we build abdominal strength just by changing our posture?
The answer lies in hundreds of thousands of years of human evolution in the earth's gravitational field. In order to function on two legs – a much more complicated problem than balancing on four –  the human body has become as precise in its balanced movement as a Swiss watch.
Each joint in our bony structure has a specific point of balance, at which the force of gravity flows directly through the joint towards the ground.
Ideally, we use our muscles to move our bones into balance. After that, they relax, unless they are being called on for some specific action.
When we balance our bones and relax, our abdominals work with every breath.
Everyday life gives our abdominal muscles a constant, relaxed tone.
That means we don't need aggressive exercise programs to tone our abdominals. We need to know how to balance our bones.
You will not, by the way, develop a six-pack by spending your kitchen time in balance.
That's because you can't create a six-pack by exercise alone, no matter how hard you try. Six-packs are not about strength. They come from stripping away body fat. Click here to see how abs become more and more visible as percentage of body fat drops from 30% to less than 5%.
Luckily, no one really needs visible abs. What we need is enough strength to hold plank pose in good form, to stabilize Warrior III from our core, and to keep our lower back safe in other poses, including all the poses of daily life. Without a strong core, we're all vulnerable to back injury from working at a desk, bending while gardening, lifting a heavy bag of groceries, or putting our socks on.
Ready to try it out?
First, stand the way you normally do.
Your pelvis will be forward of your heels, and you will feel weight in the middle of your foot and in your toes, as well as your heels. You may find yourself resting your hips against the counter. If you like to lift your chest, do it. If your habit is to slump, do that. Place your hands on the counter in front of you, where they would be if you were chopping an onion. Check in: how is your abdominal tone?
Now Come into Original Alignment:
Look down and see your ankles. Your thighs move back.
Feel your weight drop through your heels.
Soften your hip creases. Soften your low back.
Relax your ribs and draw your lower front ribs down and back.
Relax your chin, and back up your neck.
Let your arms hang heavy.
Check in: how is your abdominal tone?
If you're in balanced alignment, you will feel a mild engagement in your abdominals when you move your ribs down, and more engagement when you move drop your chin and move your head back.
 Now let's ramp it up.
Have a look at these two men, both working in restaurants. They both stand in Original Alignment. Notice that they have long spines and relaxed shoulders. That's because both of them hinge at their hips when they bend.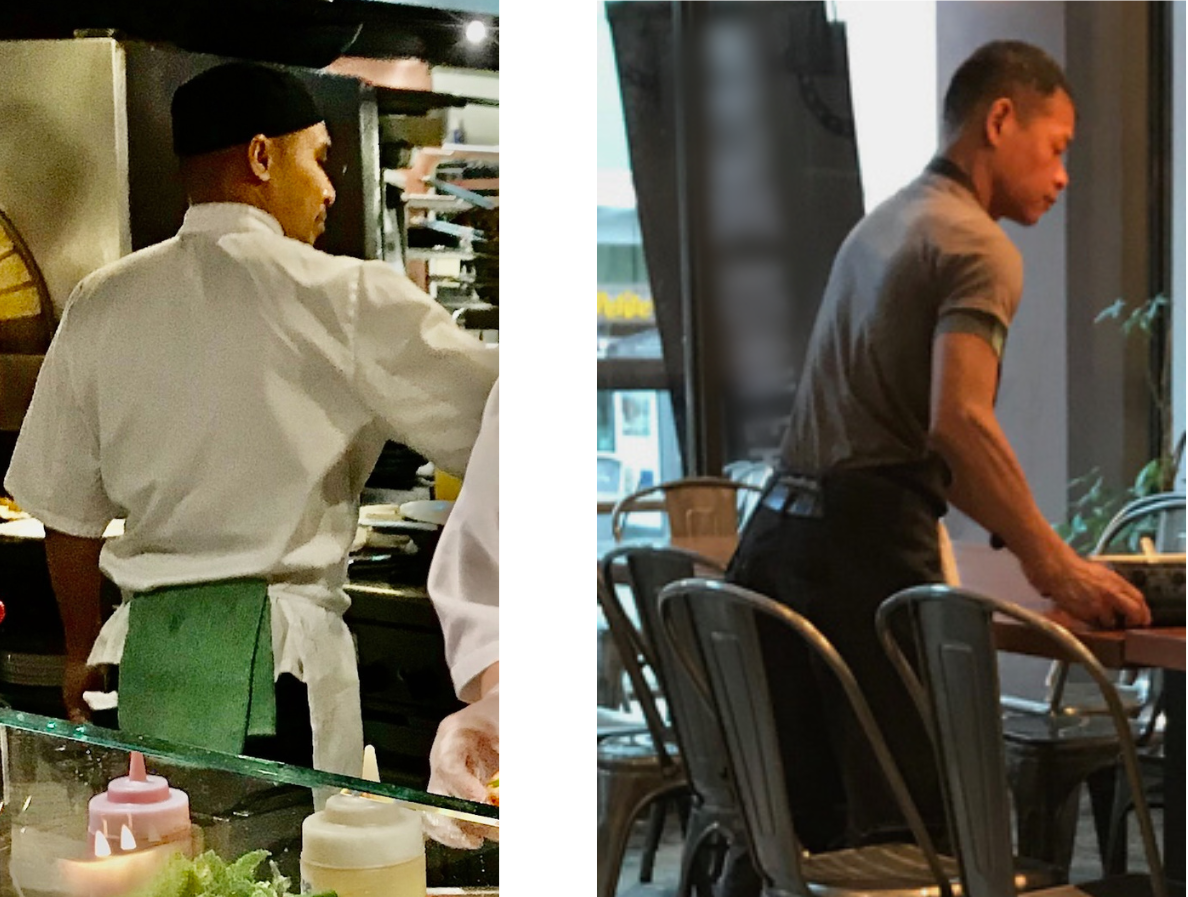 Working at a counter requires a slight forward bend.
If you normally stand in modern posture, you will bend from your waist and round your upper back. If you get a sore upper back when you cook, that's why.
To bend in alignment, let your thighs move back as if you were getting ready to sit in mid air. Feel your low abdomen flatten. Soften your low back. Now hinge from your hip creases and take your pelvis back until you feel your entire abdominal wall flatten and press back.
Then stay there and make those cookies.
This part won't be easy, but not because you'll work your abdominals to exhaustion. You won't. After all, you aren't really "working" them. You're simply putting your bones into a position that automatically pulls your abdominal wall back towards your spine.
The real challenge lies in staying present. Here are some helpful tips:
Shift your ingredients, not your spine. Move whatever you're working on so it's directly in front of you. You'll be surprised by how often you'll find yourself off-centre and creating tension from holding an unnecessary twist.
If your arms stray too far forward, your shoulders and upper back will round. Keep whatever you're doing close enough that your arms don't have to reach for it. You might need to stand closer to the counter. If that's not enough, bend more deeply at your hips.
Most of us habitually crane our necks forward. Relax your chin and draw your head gently back and up from the base of your skull.
Your weight will inevitably move forward, back to your habit pattern. Finding yourself with your hips resting on the counter is a wake-up call.  Remember to congratulate yourself every time you notice that you're out of balance. Yes! You woke up! Hurray! Return to balance, feel your abs tone again, and go on cooking.
Yes, this is work. But I never said it was easy. I just said you could tone your abs and cook at the same time.
Besides, if you practice Original Alignment while you cook, and  you will end your time in the kitchen less tired, and without an aching upper back and shoulders.
All that, and supper – or those cookies – will be ready to eat.