Keeping it on the one: Spinefulness lessons from James Brown and Georgia LeConte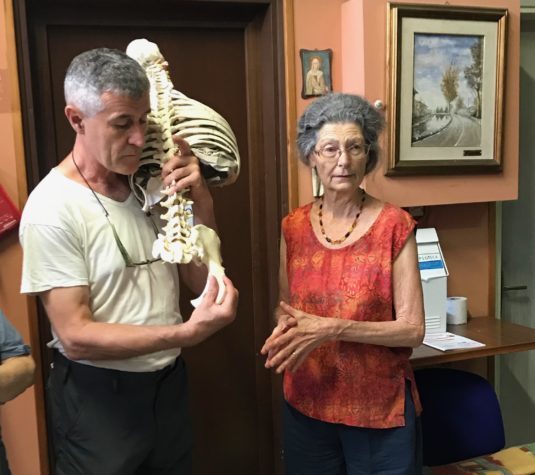 At first they seem an unlikely pairing. Georgia LeConte, the world's most expert teacher of Aplomb/Spinefulness, is elegant and refined, commanding when she's teaching, quiet and low-key when she's not.
James Brown is the Godfather of Soul (aaooww!). What could they possibly have in common?
True, they are both in natural balance. Check out this video of a young 
James Brown
 and you'll see it. (James starts to dance at 30 seconds into the video.)
But after reading a recent blog post from Austin Kleon, titled 
"Keep It on the One,
" I'm convinced that the connection goes deeper than that.
The post starts out with bassist, songwriter and Funk master Bootsie Collins talking about what James Brown taught him: hit the first beat in the bar, then do whatever you want, but always hit the first beat. In other words, "keep it on the one."
That, Collins says, is the basis of funk.
So how does that relate to Georgia, and Aplomb/Spinefulness?
In posture, "the one" is the position of the pelvis, and Georgia is a master of "keeping it on the one."
Her perpetual question: "Is your weight on your pubic bone?"
The first time she posed it to me, we were sitting across the table from each other at a long Sunday lunch at Aplomb teacher Stephano Lenzi's farm in Renazzo, about an hour out of Bologna, Italy.
As I shifted around in my hard, too small chair, she sat quietly, apparently in comfort, in exactly the same kind of chair.
She watched me fidget for a while, and then asked: "Is your weight on your pubic bone?"
Well, no, it wasn't. It was on my badly named "sitting bones," which were also the source of my pain. When I rolled my pelvis forward, the relief was immediate. It was also fleeting. In my present state of tension, I can keep my mind "on the one," but my body isn't ready to relax in place.
That's no surprise, because, like almost everyone I know, I grew up out of balance.
We all sat and stood with our buttocks tucked under. In that scenario, instead of balancing on top of the thighs, the pelvis hangs off the legs. That makes it impossible for the pelvis to transfer the weight of the torso into the bones, so our muscles grip to hold us up.
Before we can live in comfort, the gripped muscles and ligaments caused by decades of out-of-balance posture have to let go. First we learn to become aware of the tension, a job in itself, and then we release it. We're "undoing" rather than doing, for most of us an unfamiliar approach.
Why do this work?
Georgia is in her 70s, as is Anne Brown de Colstoun, another senior teacher at the workshop. They move with complete freedom, their spines are long and straight, and they seem to have boundless energy. When we dropped them off at their hotel after a 14-hour field trip into the mountains, they sprang out of the car, still talking, showing no signs of fatigue.
As we pulled away, Susan, my fellow Canadian at the workshop, said: "I think they're a different species."
Maybe. But maybe that's just what you get when you keep it on the one.
Want to know more?